Welcome from the Headteacher
Hello, and welcome to Deansbrook Junior School. My name is Simon Putman and I am very proud to be Head Teacher of this fabulous school.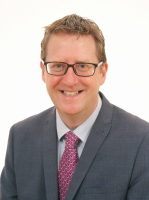 As a Head Teacher, my core values are very important to me; I have a strong belief that all children and staff achieve their full potential if given the right amount of support with the right encouragement in the best possible environment.
Here at Deansbrook Junior School, we believe that children should be encouraged to become lifelong learners who are prepared to go out into the world without any fear of the unknown, with the confidence to deal with successes and failures, and know-how to learn from them.
We are an innovative and creative school, constantly seeking inspirational ways to engage and excite children. The quality of our school grounds and classrooms are exceptional and our high standards of achievement reflect this.
Our children, their parents and their teachers have a real voice in the school. All our stakeholders' views are taken seriously and acted upon. We work together to ensure children leave school with confidence and pride.
Simon Putman